Those very clever technical people at BabyStyle have designed their best pushchair yet, using vital input from parents and testers about what they really want from a pushchair.In pushchair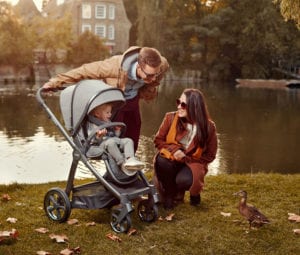 mode, the Oyster3 will fold with the seat in both forward and parent facing positions, the compact fold means that it is even easier to carry, store and transport, and once folded there is a really useful retracting carrying handle, making it easy to lift and carry.
The chassis is available in Oyster City Grey and Mirror both of which are finely finished with a handstitched textured handle. The foam filled ER tyres are not only puncture proof but give a longer, trouble free life and all-round suspension ensures that the Oyster3 will handle all kinds of terrain.
A coordinating carrycot with a rocker base and optional stabilisers is available and a range of car seats can be fitted using the Multi Car Seat Adaptors to create the perfect travel system (recently selected as one of 5 Mumsnet Best Travel Systems 2019).
For more details of the Oyster3 contact BabyStyle UK Ltd.